The health and safety of all our valued UnFranchise® Owners, guests, partners and corporate staff has always been and continues to be our highest priority. Together, we are facing unprecedented times; however, we have proven our ability to adapt and overcome various challenges and obstacles associated with the global pandemic.
After careful consideration of the current Covid-19 trends and with the rapid rate that the Omicron variant continues to spread, we are taking all necessary precautions and protective measures by making the upcoming Market America Worldwide | SHOP.COM 2022 World Conference a virtual, online-only event experience.
This means we are bringing this year's World Conference to you, to enjoy in the comfort and safety of your own homes and/or watch parties. While our trainings, conventions and conferences are ideally experienced in person, we have been able to re-strategize and thrive by successfully delivering online trainings and virtual events that are conveniently accessible on-the-go from anywhere around the world.
If you plan to watch the World Conference with a large group, we would love to feature your watch party during the event. Reach out to ufomarketing@marketamerica.com to get featured.
#MAWC2022 will truly be an impactful and unforgettable experience. We are currently creating an even more dynamic, interactive and engaging experience compared to our previous virtual events.
With tickets, you will have exclusive access to valuable business-building and education opportunities, helpful resources and more that can benefit you and your UnFranchise Business. We have a lineup of powerful presentations for you from the Corporate Team, field leaders, successful UnFranchise Owners and special guests.
You will be the first to know about all the new products, tools and technologies as they are announced during the event. Also, Virtual Booths will be available for you to learn more about the company's divisions, exclusive products and services. You can engage with representatives, ask questions, obtain helpful resources, and more.
You will be able to access the interactive online event community before, during and after the event. All sessions will be available live in both English and Mandarin, and replays will be available for up to 14 days after the event. More information will be coming soon about access to the virtual online event.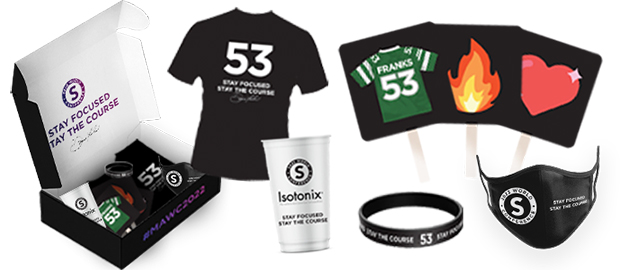 Before #MAWC2022, all ticket holders will receive a Special Commemorative Package containing an event T-shirt featuring its theme, "Stay Focused and Stay the Course"; a commemorative cup; face mask; wristband; multiple emoji sticks to participate with during the event; and more.
It's possible that your package may include a valuable Golden Ticket for the Market America Worldwide | SHOP.COM 2022 International Convention in Greensboro, North Carolina.
Golden Tickets will be placed randomly inside packages. If yours includes a Golden Ticket, you are eligible for a complimentary round-trip flight and four-night stay for you at the Sheraton Greensboro at Four Seasons host hotel, VIP access for you and one guest during #MAIC2022 (VIP seating and a catered breakfast and lunch), and a US$3,000.00 or equivalent credit on your account to use toward purchasing products, etc.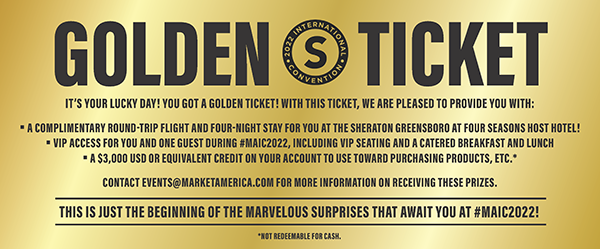 The only way to receive a Special Commemorative Package (and possibly find a valuable Golden Ticket inside) is to purchase #MAWC2022 tickets.
Stay Focused and Stay the Course. Join us for the 2022 Online World Conference!