Register for the Last nutraMetrix Consultant Training of the Year!
nutraMetrix® is on the move! Tickets are now available for the new, two-day nutraMetrix Consultant (NC) Training. nutraMetrix provides comprehensive education that suits all attendees in learning how to successfully design and implement nutraMetrix wellness solutions for healthcare professionals.

Click here to book your NC seat reservations online, or call (800) 232-8590.
Hilton Long Island/Huntington | Melville, New York
598 Broad Hollow Road
Melville, NY 11747

NC Training – Sept. 21–22
Reservations: (631) 845-1000
Room rate: $179.00 per night*
Room rate deadline: Aug. 28
Ticket price: $195.00
Find event details and additional information regarding nutraMetrix events at marketamericaevents.com under the nutraMetrix Training tab. If you are unable to view any information when registering on the nutraMetrix.com corporate page on your computer, try clearing your cookies first to access the information. You can also register for your seat over the phone by calling the ordering line at (800) 232-8590, or by faxing a registration form to the corporate office at (336) 605-0041.

Make sure to adjust your schedule so that you can attend both days of training. When registering online, you will receive an automated confirmation email with your confirmation number, along with a separate confirmation email from the nutraMetrix team with your name and agenda attached. If you are registering for more than one seat at a time, please make sure that all seats have been reserved and you have a separate confirmation number for each seat reserved. If you need a registration form or assistance with registration, please do not hesitate to contact us at nutraMetrix@nutraMetrix.com.

nutraMetrix Consultant Training agenda: Registration is on Saturday from 7:30 – 9:00 a.m.
Saturday – NC Training begins promptly at 9:00 a.m. and doors open at 8:30 a.m. Lunch is on your own. Session concludes at 6:00 p.m. Networking Social is from 6:00 – 8:00 p.m.
Sunday – NC Training begins promptly at 8:00 a.m. and doors open at 7:30 a.m. Lunch is on your own. Please schedule your flight arrangements so that you may stay for the full training time on Sunday. Session concludes at 4:00 p.m.
nutraMetrix is a proud supporter of the nEI. For more information, course description and registration details click here.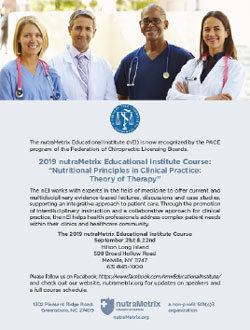 *Please mention you are attending the Market America/nutraMetrix Training when making reservations.